Nessa Carson
Chemistry with ROBOTS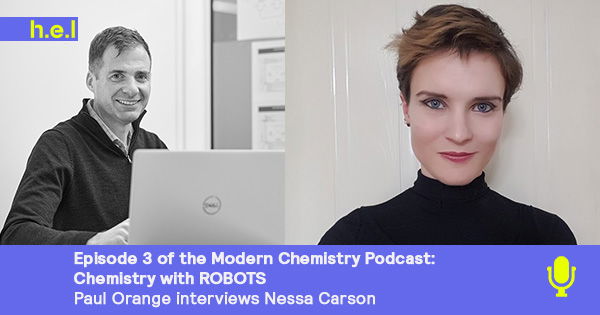 For episode 3 of the Modern Chemistry Podcast, I interviewed Nessa Carson. Nessa currently works for Pfizer in the UK in high throughput Chemistry and has previously worked for AMRI in a similar role. We discuss how robots have helped her in her work and how modern interdisciplinary chemistry needs to be.
Terms used during interview
LCMS – Liquid Chromatography-Mass Spectrometry is an analytical technique wherein complex mixtures of chemicals are separated by liquid chromatography, then subjected to mass analysis in a mass spectrometer. This often gives detailed information about the composition of the chemical mixtures.
NMR autosampler – A device that automatically takes samples of a chemical or chemical mix and then makes it available for Nuclear Magnetic Resonance (NMR) analysis. The chemical mixes are subject to measurement while in a strong magnetic field, giving information about the structure of the sample under examination.
Copper iodide – A metallic compound with the chemical formula CuI, also known as cuprous oxide. As well as applications in organic synthesis (to which Nessa referred), it is used in cloud seeding.
If you want to connect with Nessa and hear about what she's doing, you can find her on LinkedIn and Twitter. If you want to see Nessa's articles, head over to Chemistry World, where you find articles such as "Am I really a scientist" and "How many papers do you read a week?".