We develop and manufacture innovative scientific instruments and automation software
Do you need to optimize the efficiency, safety, and productivity of critical processes in your lab?
But are looking to partner with a company that has a proven history of solving complex technical challenges? Then H.E.L Group is here for you.
We have developed and manufactured innovative scientific instruments and software since 1987 for the chemistry, safety, and biotech industry. With over thirty years of experience, we can offer you confidence in the safety of our systems and trust that the information they generate gives you the solutions you need..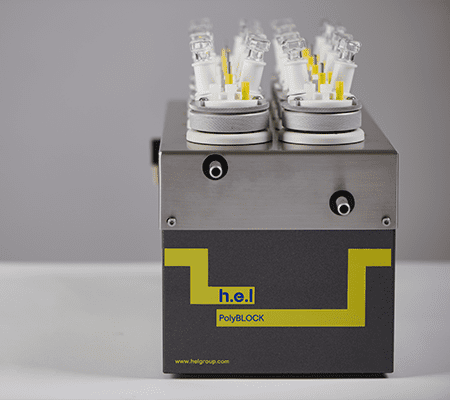 Why H.E.L Group?
We embed our values into everything we do, from how we work through to how we design, manufacture, and implement our innovative solutions.
PolyBLOCK

HEL's PolyBLOCK is a classic invention that allows process development at the fastest rate. We have developed a process for 9 steps carbohydrate project in just 45 days with the help of PolyBLOCK.
AutoLAB

We were looking for a high pressure-high temperature reactor system with real time monitoring system to in-situ study our reactions. HEL came up with a system that suited our needs and budget. The reactor came with a software that records all the data during the process and it is easy to use. During installation we had a three-day course on the basics of the equipment and the software. We got the service we asked for.
CAT 7

Currently Teva is using HEL CAT 7 hydrogenation system. It was effectively used for screening of hydrogenation catalysts and determination of optimal hydrogenation conditions. Our experience with CAT 7 system showed that it can significantly reduce the time needed for a selection of hydrogenation conditions, mostly by rapid identification of the most relevant screening hits for the further research and development process. In conclusion, HEL CAT 7 was found to be very useful choice for our R&D.
HP ChemSCAN

This apparatus has many advantages. You have a good control of the temperature and pressure and you can follow the gas uptake on the monitor with good accuracy. The software is easy to use, with all commands for one run resumed in one program. The interface of the software is pleasant looking with a good view of all parameters. The reaction can be followed via the graphics, with the possibility of changing the scale of the graphs at any time. Reactors can be easily placed and removed. Handling the reaction mixtures before and after the reaction is quite simple.
AutoLAB

As a research active faculty member at Qatar University in chemical engineering with research fund that has a limited lifetime, I searched for specialist reactor suppliers around the world who would not only sell but also advise customers on their specific needs for the budget available. I was fortunate to select HEL in the UK and it started with an email query on a glass reactor for a tricky reaction system. That email was followed by a series of phone conversations to identify accurately my needs within my budget. I was particularly impressed by the speed of response and honest, impartial advice. I got what I wanted and when my research assistant encountered issues with the equipment during the warranty period, the spare parts were shipped very quickly, thus saving my research team precious time. HEL staff are professionals and trustworthy. As a research professor, I definitely recommend HEL for queries and purchases for intricate glass reactors for serious research work
AutoLAB

I have to compliment the project manager. She handled the installation and on-site training very professionally. It was so nice to have a person that truly understands the system/product that is being installed. The overall support and advice from HEL was very good and we cannot be more satisfied with this or with the reactor itself.
AutoMate II

Three years ago we were developing a new catalytic process in collaboration with an industrial partner. It was essential to commission a reliable battery of glass reactors, built to our exact specification. We have decided to choose HEL's AutoMATE II batch reactors array. We received professional advice, reactors built to specification, and a very thorough on-site training. The associated software is very intuitive and user-friendly. All issues occurring during the intensive use of the equipment were resolved quickly by the very helpful team at HEL. Last year, we have successfully progressed to a scale-up phase, for which we commissioned a custom-build AutoLAB reactor, with two exchangeable reaction vessels. Again, on all stages of ordering, manufacture and operation of the new reactor, the HEL staff were very helpful and made sure that their product was best suited to our needs.
BTC-130

We at TUV Rheinland consider ourselves to be quite fortunate in finding a vendor like HEL as the supplier of our Adiabatic Battery Testing Calorimeter. Not only does HEL provide a dynamic, but also a flexible team to work with. HEL's expertise and experience in calorimetry has proven to be one of their strongest assets. The joint partnership with HEL has enabled us to develop services from which our company and our customers have benefited. We feel this BTC system has been a key factor to the success of our laboratory.
Custom Automated Synthesisers

Cranfield University is working with HEL group on the design and manufacture of custom automated synthesisers for production of artificial "Plastic Antibodies". By combining the expertise from Cranfield University on the synthetic process with automation and custom fabrication know-how of HEL, a range of synthesisers were produced, including a new near-production prototype. Our experience with the new automated reactor/synthesiser showed that it can perform reproducible synthetic cycles under controlled conditions and with minimal operator input.
FlowCAT

The HEL Flowcat is a very robust, compact and flexible apparatus for high pressure heterogeneous catalytic processes. Its small footprint and versatility, along with the advantage of having reliable safety features, make the HEL Flowcat an excellent piece of equipment to use. It has impressive potential for scaling up procedures.
High Pressure Vessels

My role within the Green Chemistry Centre at the University of York (UK) is as Clean Synthesis Technology Platform Leader. Through this role I am currently supervising work being undertaken studying the application of heterogeneous catalysts and high-pressure gases for the conversion of biomass derivable compounds. As such our group has recently purchased three high-pressure reactors from HEL Ltd. To assist in the evaluation of our heterogeneous catalysts it is vital that stirring in the reactor vessel is control effectively and the reactor designs from HEL Ltd. achieve this by use of a suspended stirrer-bar system. As a result of our gas addition requirements some modification to the standard reactor designs were necessary, this being an area that HEL Ltd. were especially helpful in catering to our needs. From first contact with HEL (via Andrew Coleman), through reactor design and finally to reactor delivery HEL Ltd have been a pleasure to work. Throughout our interaction HEL Ltd. has proven to be knowledgeable, inventive and very efficient in supporting our research needs. I wholeheartedly support HEL Ltd. as a reliable, affordable, professional and helpful company for the design and manufacture of high-pressure equipment, and I certainly intend to use them again when such services are required.
HP AutoMATE

We received the ordered parallel high pressure system, everything is working well. Training and instructions were good and we are very satisfied.
HP AutoMATE

HEL has supplied us with high pressure reactors with automation which are working well and on the basis of this we are willing to recommend HEL for such systems.
HP ChemSCAN

We are happy to confirm that HEL has supplied us with two high pressure reactor systems with automation. These systems are used for the screening of catalysts and/or different reaction conditions in hydrogenation and hydroformylation reactions. We have been using one device with eight autoclaves during the last 8 years or so, and we are very satisfied with it. The handling and programming is quite easy. The graphical evaluation of data allows us to get an overview about the process in each autoclave. The cooperation and service provided by the employees by phone or e-mail is plain sailing. It is for this reason that we bought a second HP ChemScan with four autoclaves in 2010 which was upgraded recently to an eight-autoclaves-device. It allows a larger variation of parameters and also the graphical evaluation of the results has been further improved.
PolyBLOCK 4

The PolyBLOCK 4 is simple to use for all chemists and biochemists in our company. It allows us to carry out more reactions at a time, under very good temperature control. We also operate the PolyBlock overnight under pre-programmed procedures, to save a lot of precious time. We use different sizes of glassware in the same block, which allows us to investigate our chemistry at small scale, and then scale-up using the same equipment and pre-programmed procedure.
PolyBLOCK 4

PolyBlock PB4 is ideal and best suited for Pharmaceutical application in terms of flexibility, upgradability for various applications like pH monitoring and control, solubility and MSZW for crystallisation , high Pressure Hydrogenation , Online Real Time calorimetry, reflux & inerting , PAT tools in future , overhead motor stirring , extended temperature range -80 to 250 ( depends on the chiller being used with the PB4 ).
PolyBLOCK 4

We purchased a PolyBLOCK 4 zone system in November of 2012 and the system was delivered on time and to our specification. The PolyBLOCK has increased throughput by allowing us to easily and efficiently run multiple reactions. Our system has proven to be very reliable and we utilize it on a daily basis. We are very satisfied with our purchase of the PolyBLOCK 4 and the advice and technical support offered by HEL.
PolyBLOCK

A versatile time saving tool for QBD & DOE study for all kind of chemistry, crystallization, & even integrated with Calorimetric study. HEL motto "Better Chemistry – Faster" matches with output of instrument giving better control over chemistry & faster result. Thanks for making our work simple.
PolyBLOCK 4

With the polyblock 4 system significant time savings have been achieved compared to using conventional laboratory reactors while at the same time obtaining more information on the process studied. The system has given reproducible process control making it very useful in DOE experiments on a precise recrystallisation where variations due to operational error had to be minimised. Also with the flexibility in reactor size the process was run on smaller scale than previously reducing the demand for a valuable process intermediate.
Turbidity Probes

I use a H.E.L. turbidity probe plus temperature probe for the determination of metastable zone widths and latent/induction time measurements in the study of crystallisation behaviour. The system is easy to use and very robust and records faithfully all the happenings. Even if one manages to do silly things, the data is still there and recoverable. The probes are neat and so can be used in small vessels, an advantage when dealing with valuable compounds. The amount of data that the computer will hold from a run is astonishing. The help from the technical team is always there, so we have been very pleased with our purchase.
Various Products

My experience with HEL dates since 2005. During these years HEL was the provider of the most important lab equipment with the help of which I developed many different API pharmaceutical processes in the companies l worked for including Merck, Pfizer, and Theravance. The versatility of the automated lab reactors (AutoLAB), the ease of use of and the accuracy of the TSu and Simular systems, as well as the flexibility of the PolyBLOCK made my work much easier and accurate. I would like to mention the great relationship I established with the service engineers and the sales people at HEL. With their help I was able to customize the software and the hardware of the equipment to our specific needs. This readiness to accommodate each customer's specific needs gives HEL the edge over their competitors and makes them the preferred vendor for pharmaceutical lab equipment.
labCONSOL® brings effortless efficiency to your laboratory automation
labCONSOL® is built around the next generation of the proven 'WinISO' software engine and introduces new features that enable scientists to improve laboratory efficiency and boost productivity.
Designed around the user and the user experience, labCONSOL combines rapid data capture modes, an advanced real-time data display engine, and automated monitoring of experiment completion and failure states, across single or multiple parallel reaction systems. In practical terms, these features enable researchers to easily and accurately track how an experiment is proceeding, focusing on the most critical aspects, ultimately avoiding unnecessary repeated lab work, which can be both costly and time-consuming.
LabCONSOL® brings effortless efficiency to your laboratory automation.
Series of short walk-through videos highlighting labCONSOL
Quickly and accurately track how an experiment is proceeding
Scientific equipment for all your lab needs
We offer a wide range of scientific equipment to cover most key scientific reactions and test scenarios.