How to apply Process Safety into the Development Workflow?
Applying a safety-by-design approach within the development workflow has safety and cost benefits.
Broadly speaking, process safety scale-up follows four main stages:
Screening for potential hazards
Evaluation of the main reactions, including possible unintended side reactions
Evaluation of "what if" worst case scenarios and subsequently implementing mitigation and control strategies.
These steps naturally map onto the product development funnel. At the top of the funnel, the tests need to be simple and quick to address the number of samples. At this stage, the information provided can be quite limited. At the bottom of the funnel, poor candidates have been eliminated from consideration, and more information is required. Tests at this stage will be longer, and the experimental complexity will be greater than in discovery.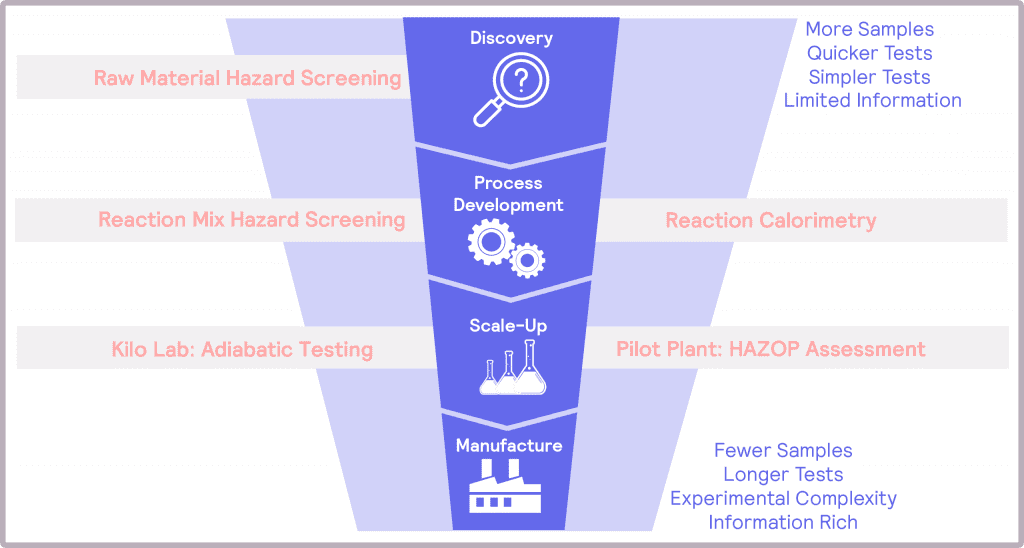 At the process development stage, the target molecule has been identified, and its synthetic route has been determined. The work at this stage is to develop and optimize the process with a view to manufacturing at scale. In terms of safety, the desired main reaction needs to be assessed and understood, alongside identifying potential additional thermal and pressure hazards as a result of the operating conditions.  An example of these hazards could be undesired side products that are more unstable than the desired product.
During scale-up, the different operating conditions are evaluated to assess their impact on the hazards. This information is used to optimize the conditions for safety.  Finally, with the operating conditions optimized and the potential hazards identified, it is time to assess the magnitude of these hazards prior to full scale-up.