H.E.L's Process Safety Solutions
Consideration of process safety throughout the product development pipeline from discovery to scale-up is essential to ensure the safe scale-up of chemical processes.
In Process Development, it is vital to understand how hazardous the selected synthesis reaction is and whether the plant cooling capacity is sufficient to mitigate these potential hazards. Hazard screening and reaction calorimetry both have a role to play when understanding a reaction itself. The move to scale-up is characterized by an increasing focus on the true extent of identified hazards, so plant safety design can be optimized accordingly. Adiabatic testing and HAZOP (hazard and operability) assessments come to the fore here. These considerations are summarized in the product development funnel in Figure 3.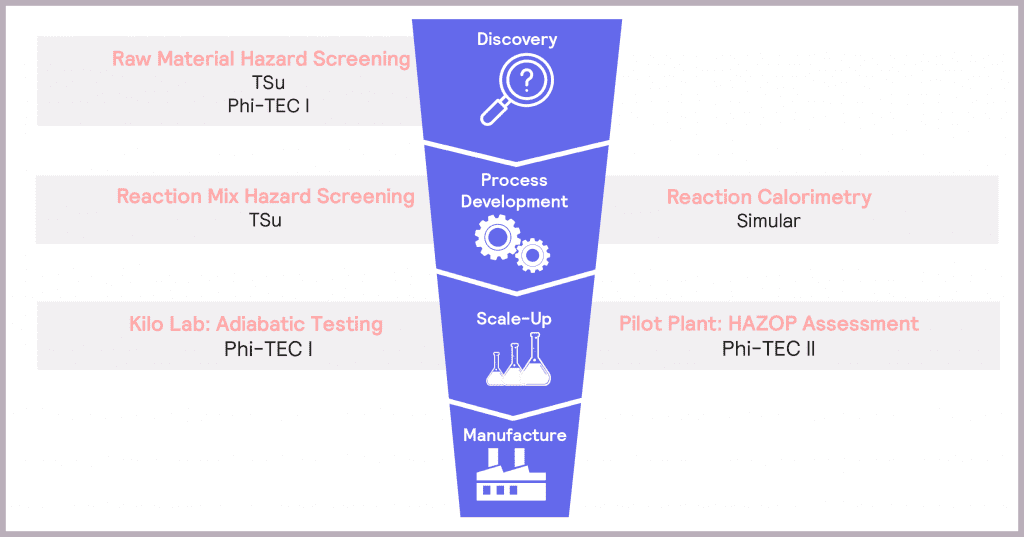 Making safety an integral component of product development – by using a variety of tools to identify, assess and then mitigate the potential hazards at each stage of the process – ensures confidence in delivering a successful and efficient route to market.