Testing protocols and equipment fully adheres to new compulsory standards for electric vehicle (EV) and lithium-ion battery safety
Supports HEL's commitment to customers in Asia and ongoing international expansion
London, UK, 24 November 2020

H.E.L Group (H.E.L), a global developer and manufacturer of innovative laboratory tools for process optimization, safety and scale-up, today announced full regulatory compliance for the company's battery testing protocols and equipment in China. Considered the most stringent in the world, the new compulsory Chinese standards are designed to further raise and optimize the technical requirements for lithium-ion (Li-ion) battery safety and the associated battery packs for electric vehicles (EV), with a focus on mechanical, electrical and thermal stress.
China became the world's largest new energy vehicle market in 2015. It sold 1.2 million new energy vehicles in 2019, accounting for over half of all electric vehicle sales worldwide. First announced in 2019 and set to be enforced from January 2021, the incoming regulations are China's first mandatory standards applied to Li-ion batteries including use in the rapidly growing field of EVs. With a focus on electrical safety and functional safety, and an increase in the requirements for thermal event alarm signaling in battery systems, the regulations should for example, ensure drivers of EVs and their passengers are provided with adequate safety warnings. The standards also put higher requirements on battery safety and emphasize an improvement in battery system tests covering thermal diffusion, external fire, mechanical shock, simulated collision and humidity cycling, external short circuit, and overheating.
To ensure H.E.L's compliance, the company has undertaken a thorough review of the guidelines to understand the implications for its specific areas of testing and technology, and also for customers, to be able to advise and ensure their compliance. This has resulted in a software and hardware development program, including an update to the data acquisition capabilities of H.E.L's battery testing system to meet the high data capture rate mandated by the regulations. Accompanying the regulations, H.E.L has bolstered their support infrastructure for Chinese customers, with dedicated local sales and technical representatives.
Although currently applicable to manufacturers based in China, it is anticipated that the new Li-ion testing procedures will need to be adopted by all companies selling batteries into China, and could become a benchmark standard for all international battery manufacturers.
 Steven Chen, H.E.L's General Manager China, commented: "In China, we have more than one hundred EV companies all vying to develop high-efficiency Li-ion batteries and EV battery packs. They will all be required to respond to these more rigorous regulations, and we are now very well-placed to support them in addressing this challenge not only with new product development but also mandatory compliance."
 Joseph Willmot, Application Leader at H.E.L Group added: "The race is on to have electric cars and trucks with similar performance to petrol-powered versions. Development of safe, next-generation, high-capacity and high-performance batteries is critical for any EV manufacturer looking to dominate in this market. Other markets outside of China, including the EU, are also trying to manage their regulations regarding battery development which are no longer considered fit for purpose as the emphasis on sustainability and EVs grows."
This article is available in Mandarin.
ENDS
---
Notes to Editors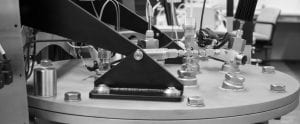 The BTC 500 from H.E.L Group is an adiabatic calorimeter, specifically designed for the testing of larger cells or batteries
For high-resolution image, please contact Zyme Communications.
For further information please contact:
Zyme Communications
Sarah Jeffery
Tel: +44 (0)7771 730919
E-mail: sarah.jeffery@zymecommunications.com
To opt-out from receiving press releases from Zyme Communications please e-mail info@zymecommunications.com. To view our privacy policy, please click here.
About H.E.L. Group 
H.E.L Group's mission is to work together with chemistry, safety and biotechnology experts to engineer and unleash the full potential of the scientific community. To this end, H.E.L develops and manufactures innovative scientific instruments and software designed to optimize the efficiency, safety and productivity of key processes in chemistry and biology applications.
The H.E.L team of 70 includes highly skilled process and software engineers, based at their extensive research and manufacturing facilities in the UK, as well as sales and support offices around the world.
H.E.L has a long history of solving complex challenges for customers. For more than 30 years the Company has worked with businesses and laboratories globally, providing proprietary automated solutions for the pharma, biotechnology, chemical, battery and petrochemical sectors.
Following significant growth, and with annual revenues exceeding £10 million, the Company is extending the reach of its products to support and enable R&D and process optimization further across the US, China and India.
Follow H.E.L Group on Twitter @hel_group and LinkedIn @H.E.L Group  Read more about H.E.L Group here.