Jeff Sperry
Safer, Earlier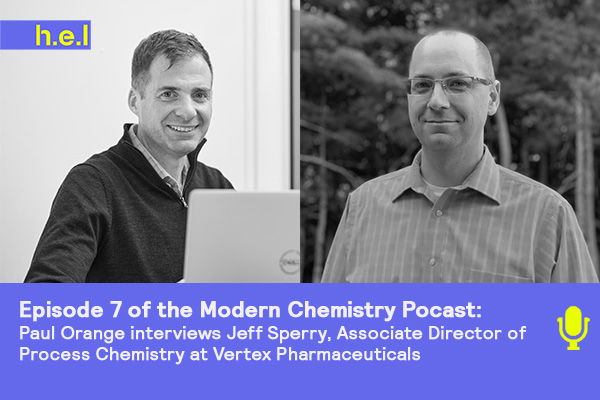 Episode 7 of the modern Chemistry podcast is the first one recorded since the start of the global COVID 19 pandemic. Jeff Sperry and I talk about the impact of the pandemic on his work & working practices straight away, but after about 5 minutes, we transition over to other topics. So, if you've had enough virus chat, scroll through the first five minutes after the intro.
Jeffrey (Jeff) Sperry is currently the Associate Director of Process Chemistry at Vertex Pharmaceuticals, based in Boston, MA. Before Vertex, he spent ten and a half years in chemistry and safety roles for Pfizer in Connecticut. Jeff has a first degree and a Ph.D. from Dartmouth College and was an NIH postdoctoral Research Fellow at The University of Pennsylvania.
Terms used during interview
Exotherm – An exothermic reaction gives off heat. Exotherm is often used as a shortened form of 'exothermic reaction'. Unwanted exotherms in process safety cause a potential safety hazard, as they can heat a reaction, beyond the safe limits of available cooling.
DSC – Differential Scanning Calorimetry (DSC) is a thermal analysis technique. The difference in the amount of heat required to increase the temperature of a sample is measured as a function of temperature. It can be used to determine the number of properties of a sample.
TSU – The Thermal Screening Unit (TSU) is a system used to screen materials for potential hazards associated with heating.
GLP Tox Lot. – A Good Laboratory Toxicology lot is a batch of a drug or drug-like material prepared during drug development with the intention of testing safety (and other) properties.
API – The Active Pharmaceutical Ingredient (API) is the drug element of a medicine. The drug would be, for example, diluted down with saline solution to make a medicine ready for injection.
Taylor Howard – As Jeff mentioned, he follows Taylor on LinkedIn
If you want to connect with Jeff or find out more about his lab, you can find him on LinkedIn and Twitter.