Next-generation software optimizes user experience and increases lab efficiency
Customers supported with a pipeline of future system developments and automatic updates
London, UK, 29 October 2020: H.E.L Group (H.E.L), a global developer and manufacturer of innovative laboratory tools for process optimization, safety and scale-up, today announced the release of its new laboratory automation software labCONSOL, designed to support customers in the automation and coordination of laboratory equipment. The software, which builds on the company's proven 'WinISO' technology, introduces a new and intuitive user interface, and provides a scalable platform for future development.
Incorporating the next generation of H.E.L's WinISO software engine, labCONSOL introduces new features that enable scientists to improve lab efficiency and boost productivity. Delivered within an improved user experience, the platform combines rapid data capture modes, an advanced real-time data display engine, and automated monitoring of experiment completion and failure states. In practical terms, these features enable researchers to easily and accurately track how an experiment is proceeding, focusing on the most critical aspects, ultimately avoiding unnecessary repeated lab work, which can be both costly and time-consuming.
To ensure an intuitive and flexible user experience, labCONSOL has been developed from direct user input and customer insight. For existing H.E.L product users, it guarantees a quick and seamless transition with minimal retraining.
Taking a software-first approach, the Company will continue to apply its software development expertise to a pipeline of future enhancements and upgrades to support its instrument offering. H.E.L systems will shortly start shipping with labCONSOL installed, and for the majority of existing users, the new software will be available as part of ongoing service plans. All customers with active service cover plans will receive regular, automatic labCONSOL updates that will continuously upgrade the software's capabilities and enrich the user experience.
Mark Appleton, Director of Product Development at H.E.L Group said: "We are delighted to deliver labCONSOL to our users as we believe it represents a step-change in laboratory automation. In developing labCONSOL, we have modernized the codebase and created an environment with a very new look and feel. We have built a platform where functionality can be added easily and in a very modular fashion, thus ensuring regular and timely future updates."
Louise Madden, CEO of H.E.L Group commented: "Software development is a core expertise that underpins all H.E.L's products. The release of labCONSOL is an example of our commitment to product innovation whilst keeping the user experience very much at the forefront of our mind. We are very pleased to be able to facilitate the growth of automation in the laboratory with future software developments that will continuously enhance labCONSOL's capabilities and increase performance and efficiency for users of our instruments."
ENDS
---
Notes to Editors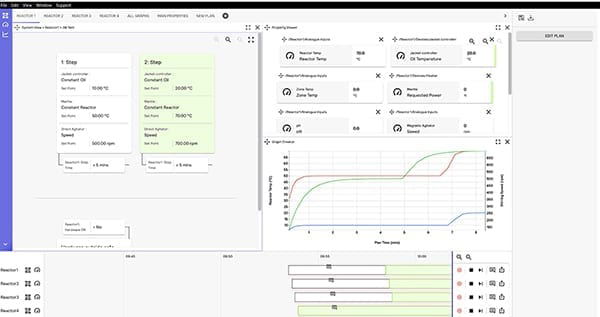 labCONSOL operating a 4-reactor parallel system
For high-resolution image, please contact Zyme Communications.
For further information please contact:
Zyme Communications
Sarah Jeffery
Tel: +44 (0)7771 730919
E-mail: sarah.jeffery@zymecommunications.com
To opt-out from receiving press releases from Zyme Communications please e-mail info@zymecommunications.com. To view our privacy policy, please click here.
H.E.L Group's mission is to work together with chemistry, safety and biotechnology experts to engineer and unleash the full potential of the scientific community. To this end, H.E.L develops and manufactures innovative scientific instruments and software designed to optimize the efficiency, safety and productivity of key processes in chemistry and biology applications.
The H.E.L team of 70 includes highly skilled process and software engineers, based at their extensive research and manufacturing facilities in the UK, as well as sales and support offices around the world.
H.E.L has a long history of solving complex challenges for customers. For more than 30 years the Company has worked with businesses and laboratories globally, providing proprietary automated solutions for the pharma, biotechnology, chemical, battery and petrochemical sectors.
Following significant growth, and with annual revenues exceeding £10 million, the Company is extending the reach of its products to support and enable R&D and process optimization further across the US, China and India.
Follow H.E.L Group on Twitter @hel_group and LinkedIn @H.E.L Group