BioXplorer 400 | bench-top, parallel 4 bioreactor platform
The BioXplorer 400 boosts productivity and enables screening of cell culture conditions in larger culture volumes.  The modular design and extensive list of options make the BioXplorer 400 adaptable to a wide range of applications, including microbial fermentation, C1 Gas fermentation and cell culture.  This makes the BioXplorer 400 suitable for process development, Design of Experiment (DoE) studies, or essential research.
With fully automated control of either four or eight bioreactors, the BioXplorer 400 supports cell culture working volumes of between 20 ml and 400 ml.  The individual control of each reactor enables the running of replicate samples with unique conditions, or any combination that your experiment requires.  Multiple systems can be run from the same control PC for extended experiments.
Offering
– Parallel processing of 4 independent reactors, in a small footprint
– Choice of reactor sizes and types including elevated pressure design (5 bar or 10 bar options)
– Fully automated parallel processing of up to 4 independent reactors
– Integrated individual liquid and gas feeds with options for gas mixing
Features
Bioreactors
We supply a range of different bioreactors compatible with the BioXplorer 400 system.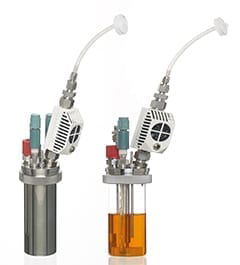 Reusable Glass bioreactors are suitable for a wide range of applications at atmospheric pressure
Stainless steel reactors for standard or elevated pressure (up to 10 bar / 145 PSI) fermentations
Specially designed head plates to accommodate all probes and feeds
Working volumes from 20 ml to 400 ml

Smaller vessels are suitable for data-rich screening campaigns
Larger vessels support scale-up requirements

Bioreactor geometry that mimics a large scale system
The H.E.L control software runs the BioXplorer 400 system, enabling complex, fully automated experiments to run unattended. This enables:
Multi reactor control with unlimited step recipe planning. Plans can be changed online at any time without process interruption
Starting and stopping reactors individually or simultaneously
The individual reactor temperature and agitation control
User-defined data-logging with customizable tabular and graphical displays
Export data functions and integration with in-house electronic lab notebooks and record-keeping systems
DoE and QbD package integration
More specifically, the software controls a wide range of system features, including:
Temperature
Gas feeds, flow and mix
pH
Dissolved oxygen
Redox
Stirrer speed
Torque (for viscosity indication)
Pressure
Liquid feed rates
Antifoam and level detection